A Little About Las Palmas in Playas del Coco
SCROLL DOWN TO SEE OUR LISTINGS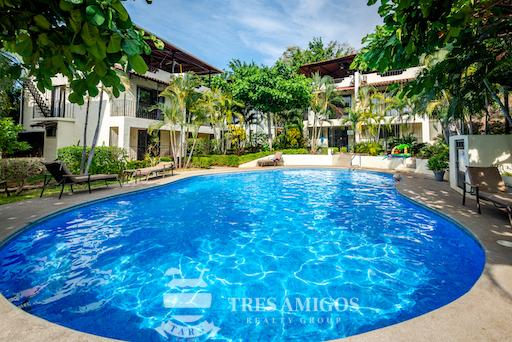 Building passive income in Costa Rica can be easy when you choose the right place, and Las Palmas is just one of those places. Las Palmas is a budget-friendly piece of paradise for those looking to invest in real estate or vacation rentals. This is also a great community to retire or relocate since it's at the center of Playas del Coco. The beach is only two blocks away, and you'll fall in love with the vibrant atmosphere all around you.
Whether you want to invest in a single-family condo, studio, or 3 or 4-bedroom home, Las Palmas has you covered. Amenities include laundry facilities, fiber-optic internet, lush landscaping, and swimming pools. And each complex is as unique as you are, with names that reflect the exotic location. Names like Coco Sunset Hill, Jade Beach, Green Turtle, Garza Real, Las Begonia, Las Bromelias, Tropical Dreams, Marine Sunset, Sea Bird, Villa Riviera, and Flamenco Rosa, to name a few. Affordable pricing means you don't have to look anywhere else, no matter what you want to invest in.
At Las Palmas, expect to spend your days relaxing in the pool, sunning or grilling in the common area, or taking a 5-minute stroll to the beach to enjoy the gentle waves and gray sand. The quaint, intimate neighborhood offers ten restaurants with various different menus and a grocery store for all of your needs. A short walk takes you to the main strip of Coco. Here, you'll find more delectable restaurants, bars and nightlife.
Experience everything this lively, unique community has to offer. Las Palmas is a friendly, safe residential neighborhood you'll never want to leave.
Amenities at a glance:
Resident and guest parking
Rancho/gazebo/BBQ area
Some complexes have gates, guards and security
Pools
Landscaping
Jacuzzis
Fiber-optic internet
Laundry facilities
Walk to beach—5 minutes
Pets allowed
Walk to center of town-10 minutes
40 minutes to San Rafael Arcangel Hospital in Liberia
30 minutes to Liberia International Airport (LIR)