Real Estate Monte Paraiso
An Overview of Monte Paraiso in Playa Hermosa
SCROLL DOWN TO SEE OUR LISTINGS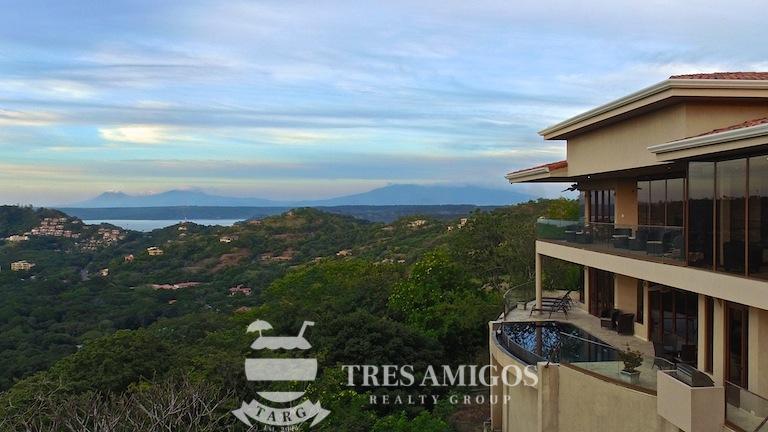 Welcome to Paradise Mountain - Monte Paraiso in Spanish – where jungle life is all around as you relax in your hammock, sipping freshly brewed coffee from your gourmet kitchen. Monkeys swing by in the trees. A flock of parakeets fly overhead. Your eyes feast on the many sights around you – the sparkling sapphire sea, the lush jungle, the distant mountains, fishing boats bobbing in the bay.
You can pinch yourself but you're not dreaming. You're living in paradise: Monte Paraiso - the first ocean-view residential lot development in Playa Hermosa.
Monte Paraiso contains 38 ocean-view single family home sites, all of them perched on a mountain with the most breathtaking views in all of the Northern Pacific coastline of Costa Rica. And there are plenty of options for whatever you desire. Build a custom home to your specifications or buy a pre-existing house that's for sale. Several of these luxury homes are for sale now, so you can move in and start living your dream at your leisure. Every resident enjoys top-class amenities and 24-hour security.
Though you might never want to leave your new paradise at Monte Paraiso, the town of Playa Hermosa is right outside your doorstep. Bask in the sun on the lovely horseshoe-shaped beach, or visit one of the specialty stores or restaurants. If you need more, the bustling town of Playas del Coco is only a few minutes away. There, you'll find more dining and activities, along with any service you might need.
Monte Paraiso is truly a paradise you'll have to experience to believe.
Amenities:
Homeowner's association
Gated community
Paved roads
24/7 security
Utilities on site: water, electricity, high speed Internet, cable, telephone
Shopping, restaurants-3 min.
Golf courses—30 min.
Liberia International Airport (LIR)-25 min.
San Rafael Arcangel Hospital (Liberia)-35 min.
Interested in buying in this community?  One of our highly experienced agents will be happy to walk you through all the options.  Call or email us for a no obligation review of your needs.
Real Estate Listings in Monte Paraiso
Land size Unit:
1,430.00 SqMeters
Building Size:
3,000.00 SqFeet
Land size Unit:
2,650.00 SqMeters
Building Size:
3,536.00 SqFeet
Building Size:
4,000.00 SqFeet
Land size Unit:
808.00 SqMeters
Building Size:
4,200.00 SqFeet
Land size Unit:
3,027.00 SqMeters