Real Estate Vista Ridge Golf CC
Vista Ridge Golf Course and Country Club in Costa Rica
SCROLL DOWN TO SEE OUR LISTINGS
How would you like to live in paradise and have access to one of the premiere golf courses in Guanacaste, Costa Rica? Now you can live in luxury and enjoy daily games at the Vista Ridge Golf Course and Country Club.
Luxury Homes and Building Lots Over 5,000 Square Meters
Enjoy a phenomenal golf course with volcano views from your estate-sized (5000m2+) lot. We have ready to move in homes and building lots for sale. Most of the lots are perfectly level and ready for setup, so no need to put in extra time for digging. Just select your ideal location and begin building your ranch house or Mediterranean villa as soon as you can get down here. Since our lots are so huge, you have plenty of space to add all the features you want. Plant a grove of tropical fruit trees. Add a garden for your own organic produce. Or simply put in a spacious pool and spend your lazy afternoons floating without a care in the world.
106 acre, 18 Hole Golf Course
Vista Ridge Golf Course and Country Club is your unique opportunity to enjoy the beautiful scenery of the greens without worrying about maintenance. If you golf, then you know the value of a 106-acre, 18-hole golf course right in your backyard, especially one at the heart of Guanacaste's great golf courses. Reserva Conchal, Hacienda Pinilla, and the Four Seasons are right around the corner, but they can't beat our golf fees! Vista Ridge stands out from its neighbors because it is the only public golf course in Guanacaste. That means green fees are less than half of other courses in the area. Plus, wildlife has been known to wander here, so be on the lookout for parrot, deer, turtles, iguanas, ducks and other birds.
Driving Range, Pro Shop, Practice Tee, Rental Clubs and Carts
As you would expect at any upscale club, Vista Ridge offers a driving range, practice tee, pro shop, rental clubs and carts. Tournaments are scheduled every Sunday when you're ready to test your skills. After completing a game, visit the clubhouse restaurant for a quick bite or take a dip in the community pool with swim-up bar.
Close to Restaurants, Activities and Nightlife
Though you'll never want to leave, Vista Ridge Golf & Country Club is only 2 miles from Sardinal, a picturesque town bursting with local culture where you can find essential products and services. For a greater selection of establishments, Playas del Coco is 20 minutes away and offers all the restaurants, activities and nightlife you could want. Or if you're up for a trek through the jungle and along the beach, take a 15-minute drive to Playa Matapalo.
It's time to indulge yourself and make a home at the only public golf course in the Papagayo area, Vista Ridge Golf Course and Country Club!
Amenities:
18-hole PUBLIC golf course
Gated community
Low HOA
24/7 security
Community pool
Ponds
8 miles of walking paths
Driving range
Practice tee
Clubhouse restaurant and bar
San Rafael Arcangel Hospital (Liberia)—35 minutes
Liberia International Airport (LIR)—25 minutes
Interested in buying in this community?  One of our highly experienced agents will be happy to walk you through all the options.  Call or email us for a no obligation review of your needs.
Properties for sale in Vista Ridge Golf and Country Club
Land size Unit:
1.25 Acres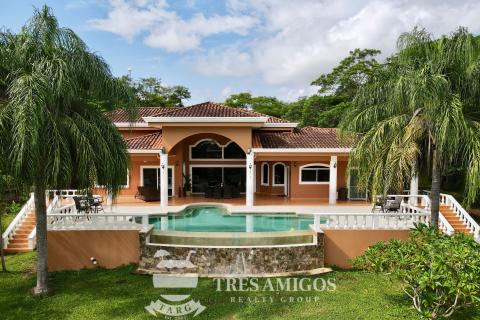 Building Size:
3,000.00 SqFeet
Land size Unit:
6,152.00 SqMeters