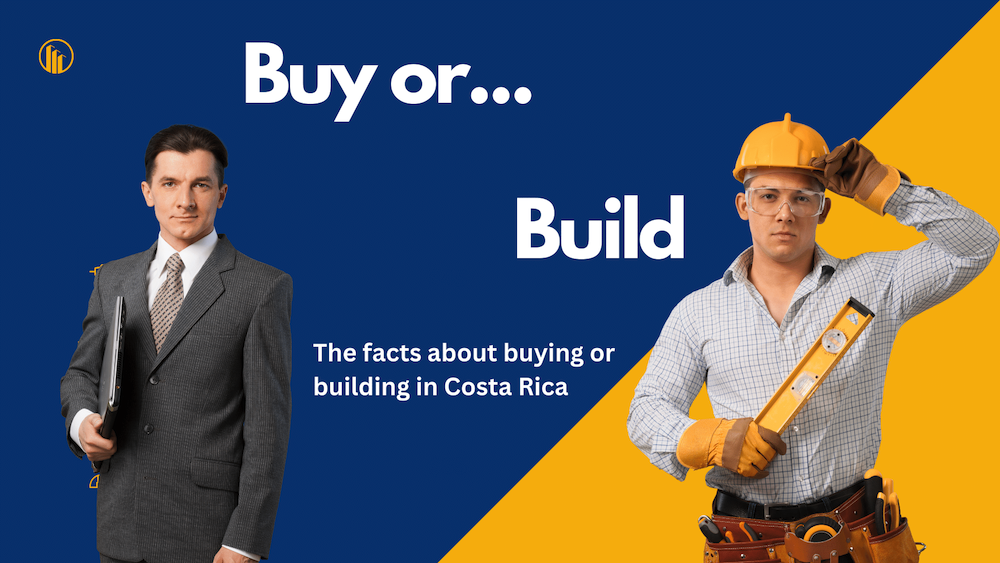 The short answer on building or buying
Let us state right up front: we're not saying "don't build a home in Costa Rica". We're just showing you all the options, including the best way to build a custom home from scratch.
Having said that, the short answer to the frequently asked question of whether to buy a suitable lot and build or buy an existing home is quite simple: If you find an existing home that fits your needs and falls within your budget - BUY IT!  After all, the reason you are coming down to Costa Rica is to slide into the hassle-free lifestyle and enjoy your time in Pura Vida land.
If we were having this discussion 15-20 years ago, when there were very few newly built homes to choose from and single family lots were abundant, we would recommend buying a lot and building your dream home or vacation home in Paradise. There simply weren't many finished homes to choose from at that time.
But times have changed in the Costa Rica building market.  There are less lots available and there are more built homes to choose from.  Although it may seem like the inventory of available homes is at an all time low, there are always new homes coming on the market. We have seen a large increase in builders investing their time and capital to build homes that you can buy turnkey - "move in" ready.
One option: consider buying then renovating or remodeling
The obvious path of least resistance is to find an existing home that fits your needs.  Even if you need to do some updating or remodeling to bring it up to your standards it is still worth the investment. The alternative is to go through the entire process of purchasing a lot, finding the right architect, designing a house, interviewing builders, chasing a building permit, getting your plans officially stamped, hiring a good lawyer, controlling costs, shopping for materials, ensuring legal access, doing title searches, and then (finally) having it built.
We haven't even discussed delays that may be caused by the rainy season, securing electrical power, installing cable or fiber optic, air conditioning services, landscaping or restrictions imposed near protected areas. Depending on where you buy your property, one or all of these could come into play. This is why it's essential you find a qualified real estate agent to help you, so you can avoid hidden costs - but more on that later.
Breaking ground is further away than you think and you may have to manage the project from thousands of miles away. Make no mistake - you will have to be heavily involved in every step of the process and, to say the least, it is time consuming.
There's an easier way to build a new home in Costa Rica
There's a better way to have a new home built in Costa Rica that should meet 95% of your needs. Many savvy buyers opt to purchase a home that a developer is already building to sell.  It is not uncommon for a home developer to partner with a local real estate professional to build a house that is both appropriate for the property it is built on, and will appeal to the average buyer looking for a home (or second home) in Costa Rica.  Many of the building lots are located in exceptional gated communities with buried power and cable (including fiber optic), 24 hour security, a pool (or pools), landscaped gardens, paved roads and other amenities too numerous to mention here.
If you are risk averse, buying a developer home is a great option. Why not let the builder fight all the bureaucracy, control construction costs, and handle the risks. You will likely pay a little more than what you would pay for a house you build yourself, but "time is money" and your own time should be included in the mix. By buying a developer home you will have your home far more quickly and with a lot less stress. In many cases you will be able to purchase a new construction "in process", which means you can customize the home to your tastes, even choosing colors and finishes.
Financial advantages of buying an existing home in Costa Rica
If your plan is to use your home in Costa Rica as a vacation spot for you and your family and then rent it out for the rest of the year, buying an existing or newly built home from a builder will enable you to earn rental income almost immediately. The rental income can help offset at least a portion of the higher price you may pay for a finished home vs. a custom built home. Having worked hard for years so you can enjoy your Costa Rican hideaway - why reinvent the wheel? Sometimes simple is worth the extra up-front cost.
If you still want to build a custom home - no problem
For those of you who dream of having a custom built home in the tropics then Costa Rica is one of the best places to have a stunning mansion built to your tastes.
Your first task will be to find the perfect lot.  It can be extremely helpful to have chosen your builder prior to choosing your building lot.  There are many great builders in the Papagayo area. Ask your real estate professional to recommend experienced and successful builders. Obviously you will want to interview them and see what homes they have already built to make sure they are a good fit for you. A good builder will not have a problem letting you speak with past clients.
The main reason to have a builder at your side during the lot selection process is that they can tell you almost immediately whether or not the lot is adequate for the type and size of house you wish to build.  There is nothing worse than finding out the house you want to build will not fit on the lot, or that site preparation is so cost prohibitive that makes it financially unfeasible to build.
Save time by working with a seasoned realtor
We can't emphasize enough how important it is to talk to an experienced realtor. It will save you a lot of time in your search for the right building lot, whether you are building a 2,000 or 6,000 square foot home. Once you define the type of home you wish to build they can help you narrow down the search to find the perfect property for your new home.
Your realtor should have a close relationship with several good builders that are willing to spend time with you at a moments notice, discuss your plans and visit the lot you desire in order to give you a professional opinion on the viability.  This is an invaluable part of the process that can help you avoid the many unseen pitfalls that can end up costing you more money.
An example of how the building process works
For this exercise let's assume that you are working with a seasoned realtor and the basics have been covered.  You have power, water and good roads to the lot you are looking to purchase, and you have been made aware of the ownership structure and any applicable zoning and Home Owners Association rules and regulations (or lack thereof).
Two very important things you need to know if you plan to build:
It can be very advantageous to use a builder who has an in-house architect and engineering team.

Build something that will be sellable if and when you decide to sell.
Why have a builder with an in-house architect and engineer?
If you plan to manage the building of your new home from outside the country, it can be a huge advantage to have a single point of contact. Having one contact for the entire project will save a lot of back and forth between you, the architect and the builder.  It is tempting to hire a separate architect and builder in Costa Rica as there are so many talented architects.  If you have a considerable budget, then you might feel more comfortable hiring an architectural firm that will guide you through the process.  If your budget is not a big issue then go all in and lean on the best professional that Costa Rica has to offer and the process will be smooth.
Build something sellable
The final note to those who want to build their custom home exactly how they want it.  Make sure you design your dream home to your tastes and get what you want but don't build such an eccentric house that nobody will buy it when you have at last decided to sell. 
Of course, there is always someone who is willing to go off the beaten path and build something extraordinary.  You know who you are and you may be in a category all by yourself.  Costa Rica is the perfect place to build the home of your dreams and it's chock full of capable and creative architects and builders that won't back down from any challenge.
The takeaways
If you find an existing home or newly constructed home that fits your needs, Buy it.

Don't be afraid of remodeling or refreshing an older home.

Buying an existing home or new build allows you to earn rental income immediately.

Buying a new home from a developer during construction allows you to choose finishes and customize to a certain extent.

If you want to build a custom home then involve your builder during the lot selection process.

Choose a seasoned realtor to guide you through the process.

You always have the option to go "all out", Costa Rica has a long list of very talented architects and top quality builders to choose from.